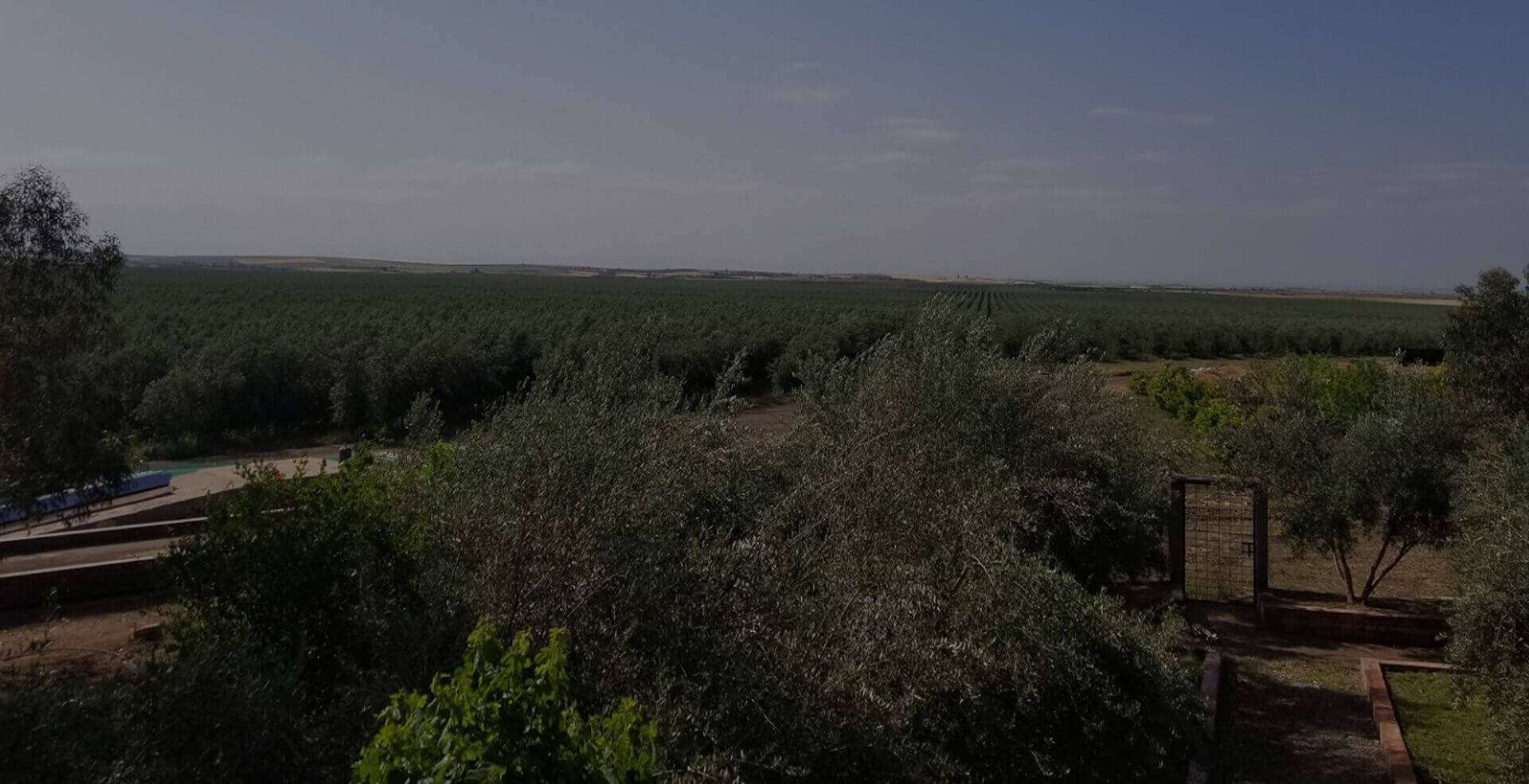 Our Story
STORY OF OUR OLIVE TRESS
Our olive trees are planted in a harsh rocky desert. The significant temperature variations (124°F in summer with extremely cold nights), the rocky soil where the roots struggle to develop along with the scarcity of water puts stress on the olive trees. In the process of protecting themselves, the olive trees produce a high amount of antioxidants, including hydroxytyrosol.
The estate of El-Borouj, also called «Domaine Mabrouka», is located in the middle of a rocky desert on the phosphate plate at 150 Kilometers from Casablanca towards Marrakech. In this Farm, we removed more than 480,000 cubic meters of stones and built one wall by hand, stone by stone, on a length of 6 Kilometers 1.5 meter high and 1 meter deep. In this way we have finally attained the optimal agronomic characteristics required by the olive trees for a fine olive production. Today this farm with its 153 Ha of olive trees irrigated by the waters coming from the Atlas, constitutes a real oasis where a high quality, delicate and aromatic olive oil is produced.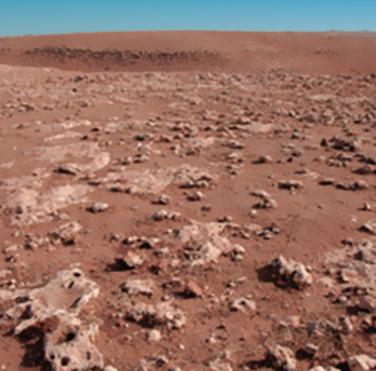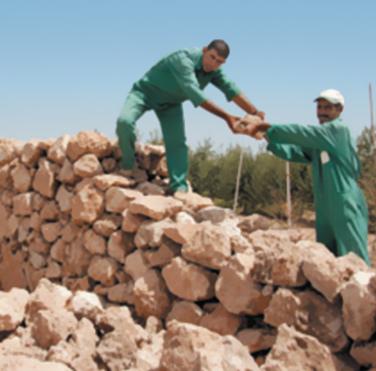 Even bad herbs hardly survive to harsh conditions - Rocky soil - Temperatures up to 124°F
Nearly never rains!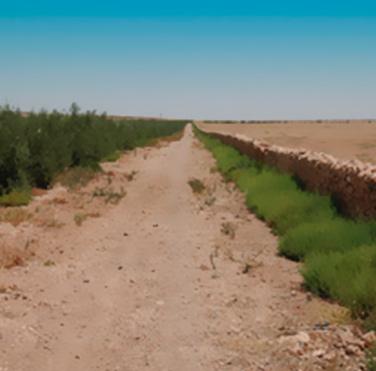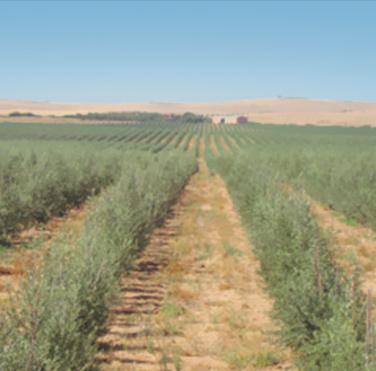 IN THE MIDDLE OF THE DESERT DUNES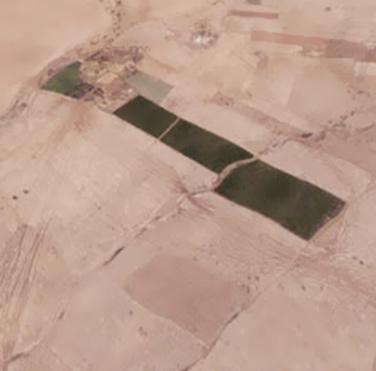 EXPERIENCE AND APPLIED RESEARCH MERGE TOGETHER TO GIVE BIRTH TO AN INTEGRATED PROJECT DEDICATED TO DEVELOPING THE HUGE POTENTIALITIES OF THE OLIVE PROPERTIES.
Experience, respect and knowledge
Only a great experience in olive tree growing, a respectful transformation process and a deep knowledge of the chemical properties of the fruits allow to obtain naturally products with such an extraordinary antioxidant powers. OLIVIE's products not only contain hydroxytyrosol, but also tyrosol, olea europeine, flavonoids, vanillic acids, caffeic acids that are different kinds of polyphenols. OLIVIE is a line of complete products that also contain Vitamins and natural mineral substances. For this reason OLIVIE is the richest "active" product available in the market today.
Why use synthetic andchemical products whennatural remedies are available?
During millennia, when progress was still in line with the real needs of mankind, Men were efficiently taking care of their body by what was available in nature. Today reality is dramatically different and unfortunately many of the simple natural remedies have been forgotten; we are geared towards unnatural solutions despite their dangers.

In this context, OLIVIE PHARMA, fortified by its consciousness, carries a leading role in spreading the awareness of the healthy properties of the olive and carries a culture of respect for both Man and his environment. OLIVIE: the natural olive benefits available for everybody.
A real help in the daily health
OLIVIE is the result of an integrated project that includes the olive tree growing, the olive transformation and the applied research for a wider and more efficient use of the olive peculiarities. The project resulted in the production of foodstuff, nutritional supplements and cosmetics based on olive extracts with a high natural concentration of antioxidants coming out from organic processes. OLIVIE shares its knowledge on the curative properties of the olive to help people fighting diseases in a natural, often cheaper, and efficient way.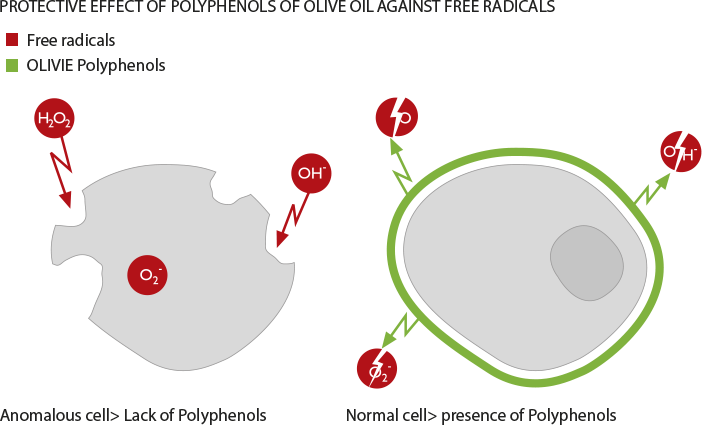 THE ART OF OLIVE OIL
To make olive oil is a real art. In Morocco this art has a name: Atlas Olive Oils. The story begins in 1887 when Boujida Aqallal was producing his famous extra virgin olive oil. Since then this noble art has been passed down from generation to generation and is alive today, still intact in the passion and new in the thought.

Discover the reason why our ultra-premium extra virgin olive oil are works of art. Welcome in Atlas Olive Oils.
SINCE 1887
When a story becomes History Passion and devotion to agriculture for more than a century define the tradition of the Aqallal Family originating in the ancient city of Fès, the historical city of Morocco and spiritual capital of the Kingdom. Our Family is known for its engagement to development and perfection of agriculture, and for an ancient olive-growing tradition. Ancestor of several generations of oliverons, Boujida Aqallal was named at the end of the 19th Century "Amine El-Fellaha" of the area of Fès, which is an honorary title meaning "The wisest of the Farmers" considering his great experiment of the soil, his wisdom and his piety.

He had several olive groves at Ras-El-Ma, Zalagh and Lemta and operated his own olive crushing mill. For four generations this passion has guided us in the production of our extra virgin olive oil making the History of oil in Morocco today.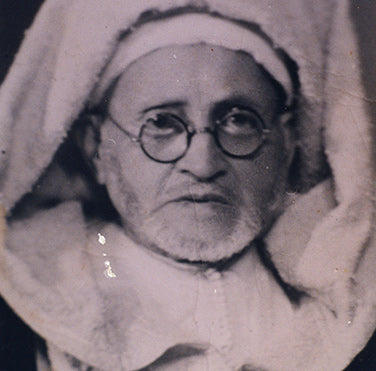 AQALLAL Ancestor
Boujida Grand grandfather
Photo of our great grand grand father who started the business family of olive oil.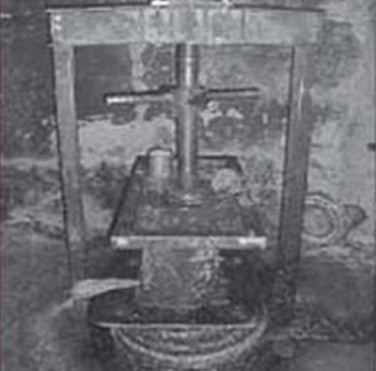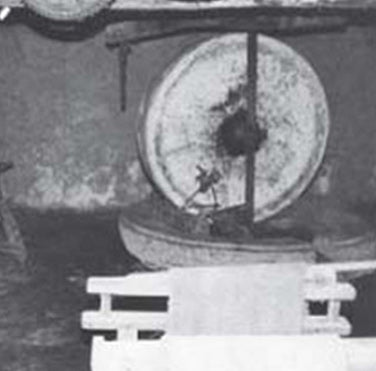 MOHAMED AQALLAL
Grandfather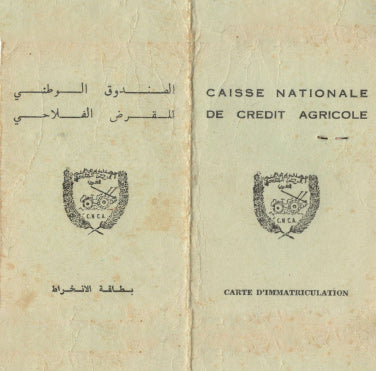 MOHAMED AQALLAL
Carte agriculteur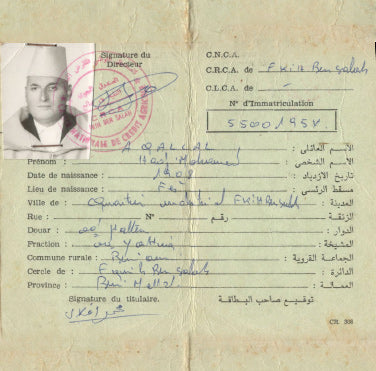 MOHAMED AQALLAL
Carte agriculteur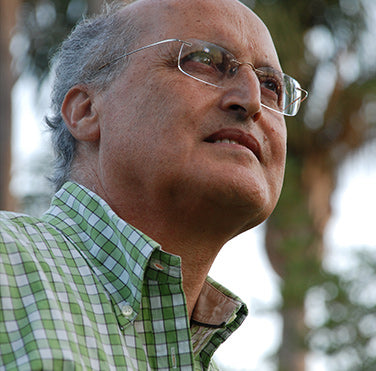 OMAR AQALLAL
Fourth generation of oliverons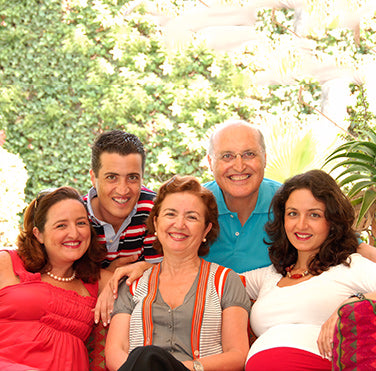 AQALLAL family